Mission:
C2E prepares students for a complex social, global and economic future by delivering a comprehensive educational program with a challenging curriculum that combines the basic skills with a strong focus on standards-based education. Our curriculum will integrate reading, writing, math, and science through the applied technologies to result in students who are critical thinkers, problem solvers,  life-long learners, and achievers, flexible and adaptable, empowered, and academically well-rounded and proficient.
Vision:
C2E is committed to preparing students to be life-long learners and honorable leaders of tomorrow.
Announcements
Please join us for SPIRIT NIGHT at Panera Bread Thursday, December 9th from 4-8 PM to support our school and staff members. Enjoy the warmth of friends and family while breaking bread and mention C2E at checkout or enter "PRFUND" at checkout for online orders so that a portion of proceeds is returned to the […]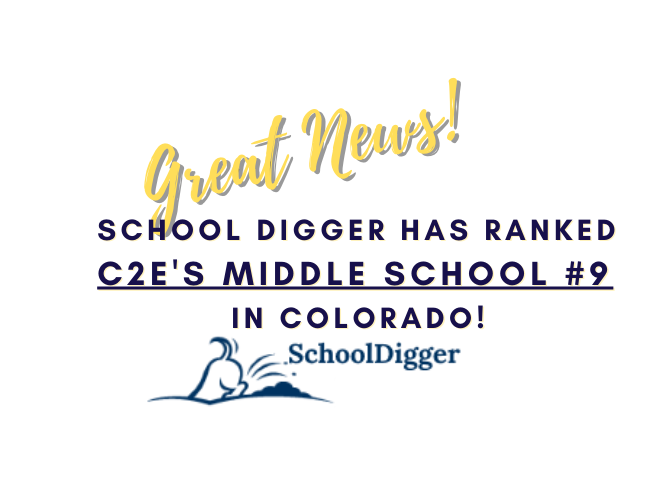 Great News!  C2E's Middle School has been ranked #9 in Colorado, according to School Digger!  To read more about this ranking, click HERE!
Challenge to Excellence is a no-tuition public charter school in Douglas County, Colorado.
We offer Elementary (K-5), and Middle school (6-8).
Our goal is to produce well rounded students who:
achieve at their ability level
actively pursue their own education
utilize 21st century learning and critical thinking skills to solve real world problems
are effective communicators,
Exemplify a positive self-image with the desire, ability and tools to be productive members of an ever changing, global society.
C2E combines research based, best practice curriculum with technology integration for excellence in education. Beyond performing well on standardized tests, our students are able to apply their learning to real life problem solving and production of creative outcomes.